May 2019 Newsletter
May Newsletter

Just In! Tonka Truck collection

Machine of the month - Designer Epic
Whether you are sewing, embroidering or quilting, the Designer Epic machine will help you fulfill your greatest creative ambitions. The Designer Epic tailors the sewing experience around your wants and needs through a tablet-like interface, WiFi, step by step animated instructions, and much, much more! Drop into the store to try this amazing machine for yourself!
Machines at Special Discounts - Jade 20 and Jade 35


We are offering 1 floor model
Jade 35
at the special price of
$1499
, regular price
$2299
, 1
Jade 20
floor model for
$599
and one new in the box Jade 20 at
$649
! The Jade 20s are usually
$799
Sewing/Embroidery Tip

A simple reminder - keep ALL other loose threads or fabric away from the hand wheel prior to sewing. This giant ball of thread was once a full spool of serger thread. Our skilled technician removed this from the hand wheel of a machine that was brought in to us.
Remember that we have two qualified technicians to service all you Husqvarna Viking machines. They guys do a great job and usually have your machines back to you within 1 week, so that you are back up and sewing in no time! No appointments needed.
Pumpkin Spice and Everything Nice

This Kimberbell class is now full and we would like to thank each and every one who came by and signed up! We are busy putting the final touches on this event and we are so excited and know everyone will have a great time. Lots of fun, laughter, prizes and of course embroidery.
Show and Tell

Here are a couple of talented ladies who brought their finished projects in for us to enjoy! We love to see what people are doing and encourage everyone to bring their masterpieces by for us to enjoy.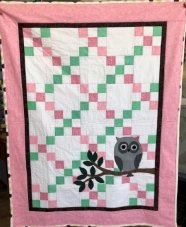 Upcoming events

We are very excited about the upcoming months,and are thrilled that we are an exclusive Kimberbell shop and are able to provide Southern Alberta with all that Kimberbell has to offer. Lorraine and I are planning a "Reunion" visit to Kimberbell in Logan Utah in September, where we will further are Kimberbell knowledge so that we may better serve you.
In October, I will be attending the Husqvarna Viking conference in Phoenix Arizona! The last conference in New Orleans was a fantastic time full of friends, fun and of course learning. I am very excited to see what amazing new Husqvarna Viking goodies await us!
Fabric Fusion is hosting our first ever retreat! The
"Give Back Retreat"
will be held on Sept. 13, 14 and 15th. Our retreat will offer demos, door prizes and the opportunity to give back to our community by building a quilt which we will donate to a local charity. How it works is Fabric Fusion is donating the fabric and we ask that each participant build us a minimum of two blocks (patterns provided) while they are here and we will put the quilt together once blocks are completed. The Sandman Hotel has offered a special room rate for those who need accommodations. Please drop into the store or call for further details.
We are very excited to be adding
Modern Blended Quilts
patterns by
Susan Madu
. We will post a biography of Susan shortly and we anxiously await our order of her amazing patterns!
Another new specialist is Nancy Strath who is a Certified Judy Niemeyer Instructor. She recently completed training to become a Gem Affiliate representing MJ Kinman, Textile Artist to teach her Gemstone Series of patterns. We are working on getting her to teach a class in the fall, and would like expressions of interest in this. In the classes Nancy will break each gemstone down and demonstrate any new techniques and tips and hints on how to most easily create that block. There are 12 individual patterns representing traditional birthstones, each 17" block is created with easy freezer paper piecing, they can create a gorgeous art quilt, wedding gifts, pillows, tote bags, baby quilt, or Mother's Day quilt featuring family birthstones.